The Worcester Music Festival crew worked tirelessly over the year-long build-up to the 2016 festival. Hosting over 200 bands across 20 different venues around Worcester City Centre, this weekend-long event was supported by the Music Festival committee alongside an impressive amount of volunteers, all of whom donated their time and effort in order to raise money for this year's charity, Acorns Children's Hospice. Over the course of the weekend those involved – including the glamorous charity team who were devoted to collected monies for the cause – managing to raise a staggering £4139.46 in aid of Acorns!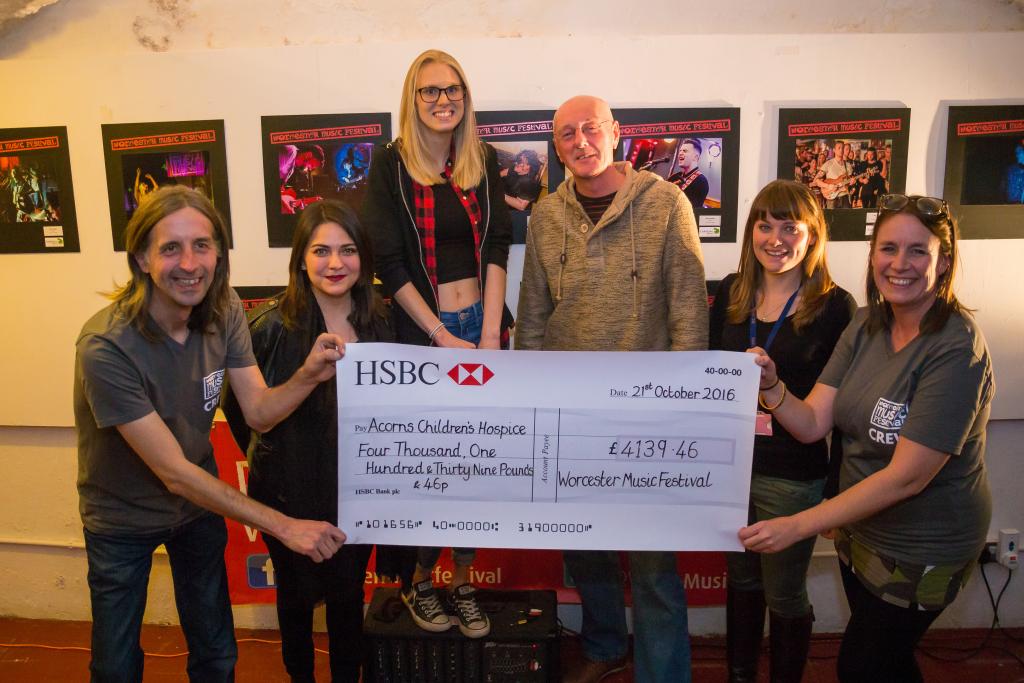 Festival Director Nikki Boraston, who has always been heavily involved with the fundraising team – and this year was certainly no exception – has spoken about the amount raised this year, commenting: 'Worcester Music Festival's team are overjoyed by the generosity of the bands and their audiences. It is wonderful to see so much money raised, and for such a deserving charity.'
'We're delighted that the money from this year's festival can now go towards helping Acorns' children, through the hospice's newest range of music therapy.'
Acorns Children's Hospice, who are constantly working towards providing support and comfort for children with life-limiting illnesses, have discussed their involvement with Worcester Music Festival this year, too. Fundraising officer, Gemma Timmis, stated: 'The festival was fantastic this year and created such a buzz in the city. It was so good to be a part of such a brilliant event and we're so grateful to the organisers for choosing to support Acorns.'
'We rely on the community to fund the majority of our work, so partnerships like this help us to continue to provide vital care.'
Throughout the course of the weekend many involved with the festival could be found rattling donation buckets that were strategically placed around the city, while Worcester Music Festival's charity team donned fancy dress – from pirates to land-girls – for the three days that the festival ran for. In their commendable efforts to raise money for a cause close to their hearts, the festival team have succeeded in raising a wonderful sum for a worthy cause, and the team heartily thanks those who were involved with the festival this year.