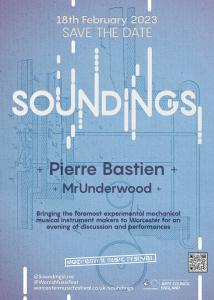 Bringing the foremost mechanical musical instrument makers and performers to Worcester.
Soundings is a yearlong programme of events funded through Arts Council England's National Lottery Project Grants and will run as part of the 2022-23 Worcester Music Festival season.
Hosted in the beautiful Georgian St Swithun's Church, Soundings will welcome artists to deliver a series of Show & Tell sessions and performances.
Soundings #3
Saturday 18th February 2023
The third Soundings event features the amazing Pierre Bastien and will follow the now established Soundings format of Show & Tell, then performances. Your host, instrument maker Sam Underwood, will also showcase his latest work.
Tickets for this event cover the full evening. If you are low/unwaged, you are invited to pay what you can by donating upon arrival, subject to availability. No questions asked.
Doors will open at 5.30pm to allow you time to purchase refreshments and take your seat.
We are also interested in hearing from any local musical instrument makers who would like to show their work as part of a short 'open session' at each event. Please complete the contact form to register your interest.
"Real cool & imaginative – more of this in Worcester please!" – Rosanna
---
Line-up:
Pierre Bastien
Pierre Bastien is a French musician who has created a remarkable body of work, spanning many decades.
In 1976 he built a sound sculpture that was to be the first element of a large orchestra called Mecanium : an ensemble of musical automatons made of Meccano parts and electro-motors, playing on acoustic instruments from all over the world.
In the nineties his mechanical orchestra developed to include 80 pieces and he performed with it in festivals and art exhibitions across the globe. His work is described as "a timeless sounding orchestra, both futuristic and slightly dada, conjuring ancient traditions in its surprisingly sensuous music."
In recent years, Pierre and his machines collaborated with video artist Pierrick Sorin, fashion designer Issey Miyake, British singer and composer Robert Wyatt, and Aphex Twin (who released three of his albums on his label Rephlex) to name a few…
Pierre is one of the most influential experimental musicians working in the field.
MrUnderwood
Soundings host and musical instrument designer Sam Underwood will showcase his latest creation at this event. Alongside his more overtly mechanical musical instruments, Underwood has launched many probes into the rich area of audio feedback systems. His work in this area includes the construction of specialist hardware and mechanisms that harness this to create beautiful, astable outcomes.
---
Please complete the enquiry form below to register your interest
---
Support for this project has come from Severn Arts with investment from the Arches Worcester project, which is funded by the Cultural Development Fund – a DCMS / Arts Council England fund.