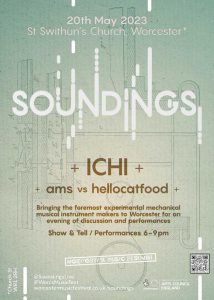 Bringing the foremost mechanical musical instrument makers and performers to Worcester.
Soundings is a yearlong programme of events funded through Arts Council England's National Lottery Project Grants and will run as part of the 2022-23 Worcester Music Festival season.
Hosted in the beautiful Georgian St Swithun's Church, Soundings will welcome artists to deliver a series of Show & Tell sessions and performances.
Soundings #4 | Saturday 20th May 2023
The fourth Soundings event features the inimitable ICHI and will follow the now established Soundings format of Show & Tell, then performances. Your host, instrument maker Sam Underwood, will be joined by the Birmingham-based artist and curator hellocatfood (Antonio Roberts) for a tussle between his acoustic modular system and hellocatfood's stream of live code.
Tickets for this event cover the full evening. If you are low/unwaged, you are invited to pay what you can by donating upon arrival, subject to availability. No questions asked.
Doors will open at 5.30pm to allow you time to purchase refreshments and take your seat.
Line-up:
ICHI
ICHI, from Nagoya in Japan, takes the notion of a one-man band to new limits, combining his quirky handmade instrument inventions (Stilt-bass, Kalilaphone, Balloon-pipes, Hatbox-pedal-drum, Tapumpet, Percussion-shoes & Hattrick-hat) with steel-drum, ping-pong balls, typewriter, toys & everyday objects all in the space of one short set. Somehow there's an ancient, ritualistic feel to his performances – he's like the misplaced leader of a tribe. To see ICHI live is to witness something so playful and unusual you know that you're experiencing something entirely new. It's fun, it's danceable, it's exciting.
'What on earth is this?! It's brilliant!' STEVE LAMACQ

'Hilarious & bonkers & brilliant!' LAUREN LAVERNE

'It's a trip to listen to and watch' DON LETTS
ams vs hellocatfood
Soundings host and musical instrument designer Sam Underwood will be bringing his acoustic modular system (ams) back to Soundings. This highly distinctive and ever-evolving musical instrument system will be adapted in real-time by Sam, whilst being controlled by artist and live coder hellocatfood.
Hellocatfood, aka Antonio Roberts, works primarily with video, code, and sound. He is critically engaged with the themes surrounding network culture and in his practice explores how technology continues to shape ideas of creation, ownership, and authorship. In 2021 he co-founded the (Algo|Afro) Futures programme for early career Black artists to learn about live coding and creative coding, and has performed at Tate Britain, Green Man Festival, Barbican and the V&A, to name a few. At Soundings, Antonio will use TidalCycles to create a stream of data to be interpreted by Sam, through his system ams.
ams is designed with collaboration and live-playability in mind but this will be the first time it will be used in a live improv setting, with neither party fully in control of the outcomes. Expect beautiful moments of serendipity in-between the inevitable fumbling and chaos.
We are also interested in hearing from any local musical instrument makers who would like to show their work as part of a short 'open session' at each event. Please complete the contact form to register your interest.
"Real cool & imaginative – more of this in Worcester please!" – Rosanna
---
Please complete the enquiry form below to register your interest
---
Future Soundings – Dates for your diary
The Soundings event series will continue into 2023, culminating during Worcester Music Festival 2023.
Soundings #5 | Saturday 23rd & Sunday 24th September, Worcester Music Festival 2023
Support for this project has come from Severn Arts with investment from the Arches Worcester project, which is funded by the Cultural Development Fund – a DCMS / Arts Council England fund.