CARERS as young as six years old went wild at the news that thousands of pounds had been raised for their support network by this year's Worcester Music Festival, with help from HSBC bank.
Worcestershire Young Carers let out a deafening cheer when they received a cheque for £4,601 at their Hallowe'en bash at Perdiswell Young People's Leisure Club yesterday.
Of this, £3,527 was raised through the generosity of the thousands of music fans who attended this year's free, three-day live music event across the city in August, while £1,074 was raised by HSBC employees from the county, who completed a nine-mile sponsored walk to do their bit.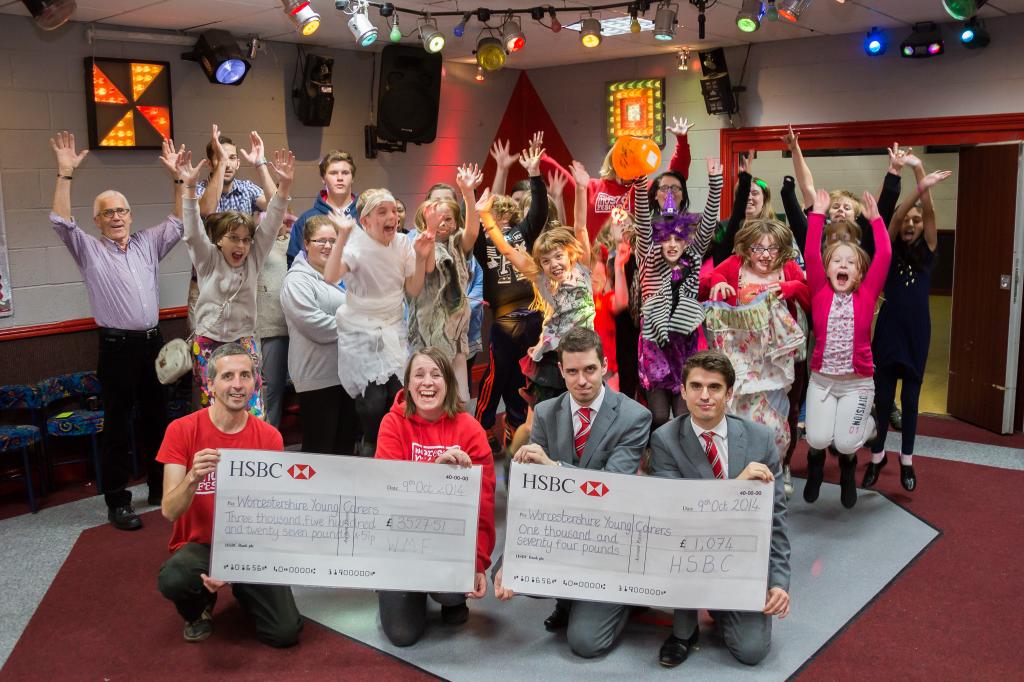 Mary Lewis, team manager for Worcestershire Young Carers (YSS), which supports seven to 25-year-olds who help to look after a parent, guardian or sibling within their home – which might be caring for people who have issues with drugs or alcohol or mental health difficulties – said: "I think it is absolutely fantastic and the money will go a long way in helping us to provide a range of activities for our 200 or so young carers.
"We'd like to thank Worcester Music Festival, HSBC and everyone who got involved this year in helping to raise awareness of our charity. We also all really enjoyed the festival in itself."
Lynden Berrio, community representative for HSBC Worcester branch in Broad Street, said they had got involved as part of the bank's ongoing commitment to supporting local charities.
"We had been looking to build a relationship with an established community initiative that has the same focus on charity as ourselves and Worcester Music Festival fitted the bill," he said. "We are proud we have been able to help raise invaluable funds for a local cause that supports young people with a huge amount of responsibility on their shoulders."
All money raised this year will help Worcestershire Young Carers continue to offer 1-2-1 support, mentoring, advocacy, information, advice and guidance, as well as run clubs, activities and residential trips to give young carers a break from caring and the opportunity to socialise.
Worcester Music Festival, which put on more than 250 live gigs and scores of workshops at over 35 venues this year, has raised more than £35,000 for charities since its first outing seven years ago through collections, a raffle and wristband sales during the event in August.
All sponsorship money raised by HSBC staff this year was boosted by its Pound for Pound scheme.
For more information, visit www.yss.org.uk and www.hsbc.co.uk.