John has been involved with Worcester Music Festival since its inception in 2008, and a member of the committee since 2009. Ever since then he has been in charge of folk music at the festival.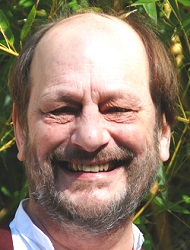 His interest in folk music began in the late 1950's (we know, he doesn't look old enough!) and early 1960's with skiffle, trad jazz, and the big folk revival. This interest progressed to singing and playing at several Worcestershire folk clubs, starting in the mid  1970's.
Through working on Worcester Music Festival opportunities have emerged to participate in other local  events, especially Earth Fest at The Fold, The Big Busk, Mayor's Charity initiatives. When he's not busy organising events for the festival John runs several pub sessions in Worcester throughout the year.
Although now retired, music still occupies a lot of his time which means he is able to meet, play and sing with a lot of very talented people all over the UK and around the world.